The Currys Boxing Day sales are always full of some of the best discounts throughout the Christmas break. Better yet, Currys has actually launched a sale already today on Christmas Day and we're ready to catch the best offers for you.
Currys and PC World merged a while backed, and the two sites seem nigh-on identical in terms of the deals offered, so we'll just stick to Currys for now. Unlike many other retailers, Currys seemed to keep the deals going after Black Friday, offering competitive prices on top tech items right until Christmas. And why not when you can order online and pick up in-store?
Christmas is done now though, but that doesn't mean the discounts have to end. Actually we could see even bigger ones as Currys moves to shift any excess stock of key items like laptops, vacuum cleaners, TVs, cameras and so much more. We imagine lots of you have gift vouchers that need spending too!
Directly below you'll find a selection of quick links taking you directly to relevant sections of the Currys site for multiple categories. As the day goes on though we'll be adding some of our favorite picks in a Currys Boxing Day highlights section underneath too.
Currys Boxing Day Sales quick links
Boxing Day sales retailer quick links
Currys Boxing Day sale highlights
Sony Bravia KD65XE8596 65″ Smart 4K Ultra HD HDR LED TV | £1299 | Currys
Fancy an Ultra HD TV with all the HDR goodness you could want? Then this Sony Bravia could well be for you. Yes, you are still paying over £1,000 but there's £300 off of the price and we can't find it cheaper anywhere else at the moment.View Deal
Samsung UE65MU7070 65″ Smart 4K Ultra HD HDR LED TV | £1299  | Currys
It looks like £1,299 is the go-to price at the moment for a top-spec Ultra HD TV. This one has £300 knocked off the price and has all the smarts you need, including HDR. We haven't found a better price for this telly yet.View Deal
LG OLED65C7V 65″ Smart 4K HDR OLED TV| £2499 | Currys
This is a good deal for the exclusive TV for Curry's – you'll find the B7 elsewhere, which uses the same panel, but this option is a tiny bit more advanced. Worth checking out the 55-inch option for a thousand pounds less, though.View Deal
LG 55SJ810V 55″ Smart 4K Ultra HD HDR LED TV| £749 | Currys
Want a cheaper 4K TV, but like the idea of having a massive 55 inches in your living room? This LCD set will do just that – this is going to be the thing that overpowers your living room and causes your non-tech family to wonder WHY you bought such a big TV…View Deal
Lenovo IdeaPad 320s-14IKB 14″ Laptop | Now £299 | Currys
This is the lowest price Currys has ever had on the Lenovo IdeaPad 320s, and we've done some scouting around and it looks like it can't be beat elsewhere. There's a whopping £230 off the original price.View Deal
HP 15-bs158sa 15.6″ Laptop | Now £399 | Currys
This great-value HP laptop has a cool £200 slashed off of the original price. For that you get Windows 10, Intel Core i5-8250U Processor, 4 GB ram and 1 TB HDD storage. We've looked around and this price can't be bettered at the moment.View Deal
SAMSUNG HW-K450 2.1 Wireless Sound Bar | £139 | Currys
Everyone should stop listening to their TV through tinny speakers and invest in some proper AV kit. This SAMSUNG HW-K450 2.1 Wireless Sound Bar is a good start and it's got a lovely £160 off of the price!View Deal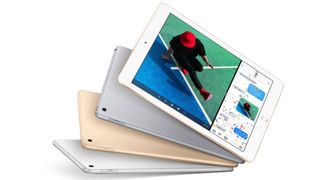 New iPad 9.7-inch model £314 (after voucher) @ Currys
Use voucher code IPAd25 at checkout to get this super price on the latest version of the 9.7-inch Apple iPad. This is the successor to the iPad Air 2. It's a fraction thicker but contains an improved A9 chip with an M9 coprocessor for enhanced performance.View Deal
Samsung Galaxy Tab S2 9.7-inch Tablet – 32 GB| £299 | Currys
If you're thinking of getting a tablet but don't fancy the idea of an iPad, this is a good, low-cost option. The design is a little dated, but the overall quality is high and you're mostly only losing the HDR screen of the significantly more expensive Tab S3.View Deal
Delonghi ECAM23.460 Bean to Cup Coffee Machine | £329 | Currys
This is a superb price for what is one of the most feature-packed coffee machines around. Shockingly, it was actually fairly price at the original £729 (compared to similar models at least) but now there is a hefty £400 knocked off that price. View Deal
Russell Hobbs Retro 21673 Jug Kettle| £39.99 | Currys
A kettle is the perfect thing to buy at Christmas because your limescale-laden model is on its last legs. This one is nice, and usually £40 more expensive. If you've been waiting for the Russell Hobbs discount, it's here and available in black, white, red, cream or blue.View Deal
Russell Hobbs Retro 21693 4-Slice Toaster| £39.99 | Currys
You don't want a kettle but need a toaster from a decent named brand instead? Guess what… there's a deal for that too. Available in a variety of colours like black, white, red, cream or blue.View Deal
There's more to come. We'll be adding fresh deals to this page over the next few days. Or use these quick links if you'd like to take a deeper look at the Currys sales yourself.