Samsung Unveils World's Smallest 512GB SSD That Weighs Just 1 Gram
Samsung has launched a new 'really fast' SSD that is smaller than a postage stamp, and is said to be the world's smallest 512GB SSD and the world's smallest NVMe SSD. The latest PM971-NVMe SSD offers storage options up to 512GB, and comes with extremely fast read and write speeds.
Samsung claims that the new SSD is aimed at next-generation PCs and ultra-slim notebooks. The PM971-NVMe dimensions measure at 20x16x1.5mm, and it weighs only about one gram. It is wrapped in a single BGA package by merging 16 of Samsung's 48-layer 256GB V-NAND flash chips, one 20-nanometer 4GB LPDDR4 mobile DRAM chip, and an in-house controller.
Samsung claims that the PM971-NVMe SSD offers read and write speeds of up to 1500MB/s and 900MB/s respectively. These figures will allow a 5GB full-HD movie to be transferred in just three seconds, and downloaded in 6 seconds. Furthermore, Samsung claims that it supports random read and write IOPS (input output operations per second) of up to 190K and 150K respectively. When compared to a traditional hard drive, the company claims that the new PM971-NVMe SSD is 1,500 times faster.
In terms of size, the new Samsung SSD is said to be hundredth the size of any 2.5-inch SSD or HDD. This small infrastructure allows manufacturers to incorporate and innovate more hardware into its products.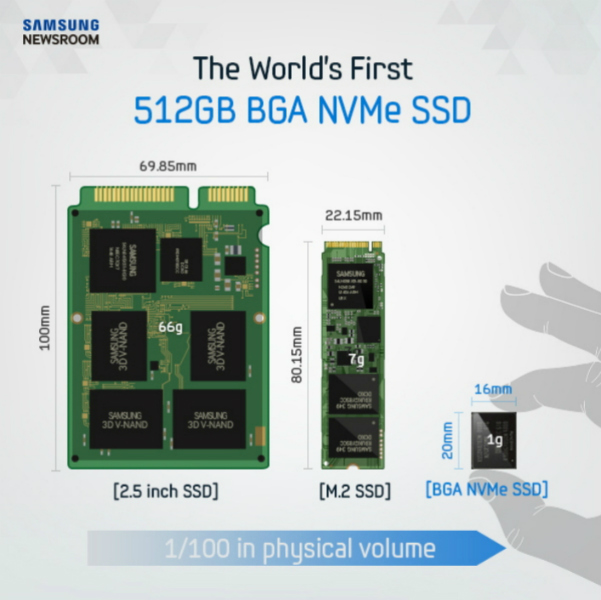 Apart from the 512GB storage options, Samsung states that the PM971-NVMe SSD will also be available in 256GB and 128GB storage options. The new SSD is said to hit the worldwide market by this month itself.
Share This Post: