Stars are aligning that point to Rockstar Games working on a follow-up to its open-world opus, Red Dead Redemption.
Just a few months after the original 2010 Western wandered onto Xbox One via backwards compatibility, Rockstar all but officially revealed that it would return to the Red Dead universe.
Red Dead Retweets
Rockstar's social media teases look as Red Dead as it gets
How did they do it? With naught but , posted on the company's official and with no caption. 
pic.twitter.com/BklXMlZ0UQOctober 16, 2016
After breaking over 100,000 retweets on Twitter in the course of a day, Rockstar made a second tease – this time showing seven silhouetted figures against a steeped, painted sun on a red backdrop.  
pic.twitter.com/iuwxwyL2cXOctober 17, 2016
The art style, color palette, and cowboy posse of this teaser were more than enough to grab our attention – this is something Red and something Dead.
However, the question remains: What is Red Dead [Redacted]?
 Red Dead Reveal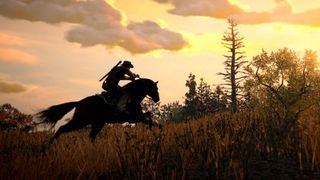 A trailer could drop this week
If it's like GTA V's reveal, we will see gameplay and a release date
As it turns out, we might have an answer out faster than a Red-Eyed gunslinger with a loose holster. Sources tell us that Rockstar plans to show a trailer for its not-so-mysterious project this Thursday.
If it's anything like the reveal of Grand Theft Auto V, we will not only get a name and maybe even a possible release date, but hopefully also some gameplay and a good hard glimpse at the setting. 
Red Dead…Renegades?
The series has thus far avoided numerals at the end of their names (yes, we didn't forget about Red Dead Revolver) so we may not see a '2' at the end of the next Red Dead's title.
While any clever subtitle beginning with 're-' would do – Retribution, Retaliation, Restoration, Regurgitation, you get it – a claims that Red Dead Redemption 2 will go by Red Dead Renegades. 
The source on that name needs confirming, but you know what – it totally works. It's got the three syllables, a dramatic taste to it, and of course, that 're-.'
Not a Red Dead Redux
Most likely a sequel, not an next-gen Red Dead Redemption
Unless Rockstar's teases are an overblown announcement of an HD re-release of the original Red Dead Redemption, we feel close to certain that a full-blown sequel is in the works.
A solid three years since the release of the gangbustin' Grand Theft Auto V, there's been plenty of time for Rockstar to cook up something big – and considering there wasn't this much fanfare for the next-gen and PC re-releases of GTA V, we think Rockstar isn't messing around.
Red Dead Re-map-tion
A leaked map points to locations both new and familiar
Earlier this April, a map claiming to be the setting for the next Red Dead leaked on NeoGAF.
The biggest takeaways from the tentative topography was a slight move eastward from the arid plains of Red Dead Redemption, showing more marshy locations, islands, and even a mention of a bayou city called New Bordeaux – possibly a tie-in with the recently released, 2K-published Mafia III?
A source with insider knowledge did confirm to us that the map was legit, adding that the game plans to take place before the events of Red Dead Redemption.
However, it is still a leaked map from the internet, so checked expectations are always a smart move. 
Red Dead pRequel
Adding to the theory that the game will be a prequel is the fact that the plot and themes of Red Dead Redemption alluded to the end of the Wild West.
Redemption's protagonist, John Marston, represented the last of the Lone Rider-types that would become phased out by modern politics, industry, and transportation, making a sequel possible but thematically unlikely.
We just hope the protagonist can swim with all that water around – poor ol' Mr. Marston sank like a stone in anything deeper than knee-high water in Redemption.