Google News Receives A Makeover: What's Better About The New Design
Google proudly implemented its neat new design of Google News for the desktop platform, and the new user interface looks more organized than ever.
The new design also gives users more control over the news they read, as well as personalize the page according to their interests.
The interface redesign is the company's most recent move to support proper journalism and help its users read credible stories. Below are some of the interesting changes Google made in its News section.
Organized News From Every Available Angle
Just how organized? Well, Google News now sports a card format for each news item so users can immediately identify stories that interest them, as well as important information related to the stories.
Remember topic cards in school? Well, Google implemented a card format for the news it curates, and one of the more helpful things the page does is to put together articles covering the same topic in one card. Different perspectives available for a specific topic are immediately available to readers, and all one needs to do is expand the card they are interested in.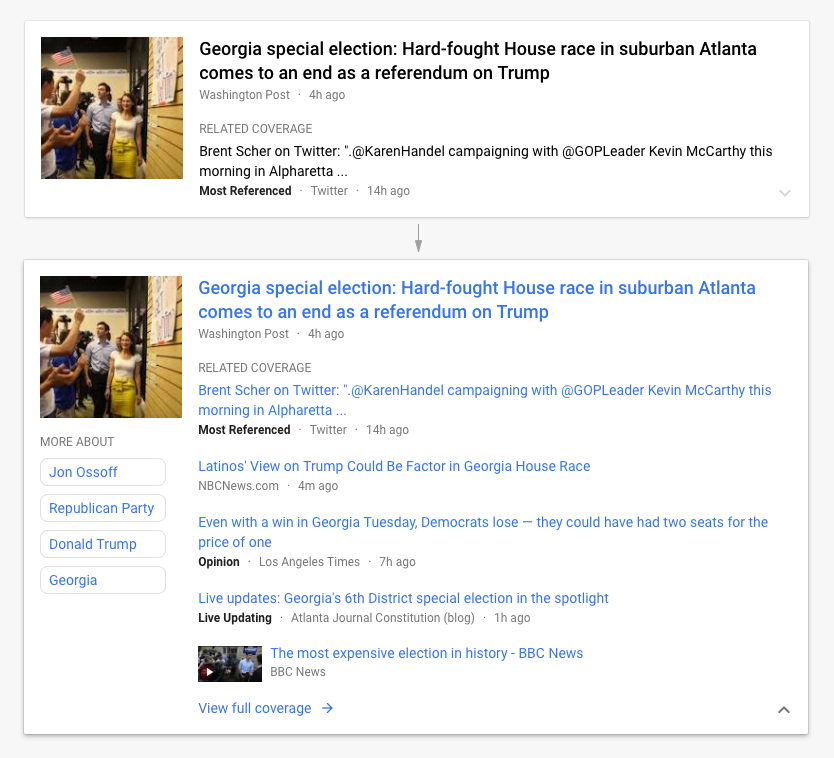 (Photo : Google) Expanding each topic card gives readers a selection of related stories. This allows readers to consider more angles and gain more knowledge about the stories they read.
Just like the screenshot above, available stories for each topic will be listed and labeled within the card, providing users a more holistic view of stories.
Fact Check Steps Up
Google has been aggressively fighting against fake news and misleading ads for at least the past year, and the company even added a "Fact Check" tag to the stories it curates beginning in October 2016.
Now Google stepped up its efforts to help readers avoid falling for misleading news with a dedicated "Fact Check" block on the right side of the screen.
The Fact Check card in the "Headlines" tab offers the most recently fact-checked articles from organizations that are working with Google to determine the credibility of stories. Anand Paka, Google News product manager, says that the feature is currently only available in the United States. However, we are pretty sure it won't be long before the company expands the service.
Personalized News
Going back to the main Google News page, users will notice that the top portion now shows a "For You" tab. This is where personalization comes in.
Google will now curate stories for users according to their specifically chosen interests. All a user has to do is click "Manage Interests" at the left panel of their Google News page and provide the topics they are interested in, as well as sites they wish Google to source more (or less) from.
Bonus: Better Videos
As an added bonus, Google improved its algorithm for selecting highlighted videos and built a better player for them.
© 2017 Tech Times, All rights reserved. Do not reproduce without permission.
Share This Post: