It's 2016 – the future – which means you don't even have to leave your house to get the best Black Friday deals. So long, midnight lines, hello comfy couch!
And for anyone looking for Black Friday gaming deals, you need click no further than Amazon or another online retailer to score the hottest consoles, bundles, games, controllers and more.
Every year Black Friday for gamers is like Christmas come early; last year was bananas, with more and than you could shake a PS Move at. This year, we expect plenty of PS4 Pro deals, Xbox One S deals and much more for your favorite gaming tech. 
With Black Friday 2016 potentially being the biggest day of spending ever, it helps to get some hints ahead of time. 
Whether shopping for the gamer in your life or yourself, keep reading to learn what Black Friday console and game deals to look for this year!
Black Friday console deals to watch for
Sony PlayStation 4 and PlayStation 4 Pro
The has won the current console war in many gamers' minds, and Black Friday 2016 will likely be the perfect opportunity to pick one up. 
That's especially true considering there are two new versions, the PS4 Slim (currently with Uncharted 4/ on Amazon) and the (/), both of which will be available by Black Friday this year. 
What's more, retailers have a history of discounting PS4s to record levels on Black Friday, so now is the time if you want to take the plunge.
Last year's PS4 Black Friday included bundles with Uncharted: The Nathan Drake Collection, Call of Duty Black Ops 3, Star Wars Battlefront, Disney Infinity 3.0, The Last Of Us Remastered, Grand Theft Auto V, and more top-tier titles from retailers including Amazon, , , and . 
Expect to see even more tempting bundles this year, perhaps even one with the headset. Or, if you're just looking for the cheapest possible version, Black Friday will likely feature a standalone PS4 deal that will rock your world.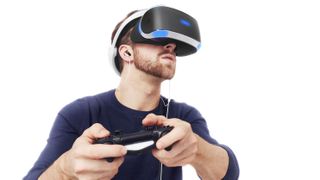 Sony PlayStation VR
The (currently / on Amazon) is only one of the several virtual reality headsets available this year, but given that it doesn't need a high-end PC or a specific Android smartphone to pair with – just a PS4 console – it's easily the most accessible for many gamers. That makes it the perfect gift (for a loved one or yourself).
Sony said recently that PSVR whatever that means, but the headset isn't selling out and is currently available on Amazon, so there may well be some deals going on during Black Friday to help you dive into virtual reality.
You'll also find the headset up for order at , , and , so keep an eye on those retailers for PSVR deals and bundles on Black Friday, too.
Microsoft Xbox One S
Like the PS4, the got a new hardware SKU this year: the (currently for 2TB version/ for 500GB and FIFA 17 on Amazon). 
So if you or a loved one has been on the fence about picking up an Xbox One – and if the console's massive bulk was a partial factor there – now is the best time yet to pick up Microsoft's latest console.
Last year's included bundles with Halo 5: Guardians, Halo: The Master Chief Collection, Gears of War Ultimate Edition, Forza Motorsport 6, Fallout 4, and others, so watch out for Black Friday 2016 Xbox bundles with hot Microsoft exclusives of the season – not to mention the new hardware.
As you can imagine, , , and all offer the Xbox One S, including with a number of game bundles. has also put together a number of Xbox One S holiday bundles, including a Battlefield 1 bundle for and a Gears of War 4 package for .
Nintendo Wii U
With the finally revealed, the jury's out on whether the (currently with Mario Kart 8/ on Amazon) will even . 
Either way, Black Friday 2016 will likely be a good time to pick one up if you've been unsure about Nintendo's under-powered, under-supported underdog console. And it may be one of the last times. 
There's still reason to buy a Wii U: it has plenty of great games for Nintendo diehards, so it's definitely worth getting – especially if it's cheap.
Last year's Wii U bundles included Mario Kart 8, Super Mario Maker, or Skylanders Swap Force, but it wouldn't be surprising if the 2016 Wii U deals were a tad more aggressive as retailers try to move as many of remaining units as possible to make room for the Switch launch in the spring.
You'll find some Wii U offers going on right now over at , , Target and . Keep checking those retailers for Wii U clearing deals on Black Friday, too.
New Nintendo 3DS
Unlike the Wii U, Nintendo's is still going strong, having handily defeated the PS Vita long ago. So if you or the gamer in your life still doesn't have one, Black Friday may be the time to right that heinous wrong.
The 2DS is thankfully a mostly forgotten slice of cake, but the current hardware iterations – the (currently with Super Mario 3D Land/ standalone on Amazon) and (currently Amazon exclusive lime green with Super Mario World/ standalone) – have all the features a 3DS owner could want, including a second analog nub and head tracking for vastly improved 3D effects.
The usual suspects – , , and – will all help you get your Nintendo 3DS fix.
3DS game bundles come and go like Bowser's confidence, so watch out for any new ones this year and the price is sure to be right on Black Friday 2016.
Get your game on during Black Friday
Shoppers of all ilk have looked forward to Black Friday every November for years, but it's become a great holiday for gamers in particular. 
Retailers like Amazon, Best Buy, GameStop, Target, Walmart and even digital storefronts like Steam, PlayStation Network and Xbox Live always go all out on gaming deals.
And it's not just game consoles that go on sale – keep an eye out, too, for accessories like controllers and headsets, not to mention the many individual games that go on sale, especially online. So no matter what you're looking for this year, chances are, you'll find it.